Pittsburgh Petroleum, Chemical, and Natural Gas Testing
Pittsburgh Pennsylvania petroleum, chemical, and natural gas testing and inspection services.
The Intertek Pittsburgh, Pennsylvania laboratory provides petroleum, fuels, chemicals and additional hydrocarbons testing, inspection, and measurement services within a 200 mile radius, supporting a wide range of customers. Strategically placed, the lab tests petroleum, petroleum refined products, natural gas and chemicals, with rapid, cost-effective operations running 24/7. Responsive field sampling are available to help ensure fast sample analysis turnaround and reporting.
The Pittsburgh lab conforms to ASTM, ISO, GPA, and other accepted standards and methods. As part of Intertek's national and global laboratory network, additional expertise and resources are conveniently available, as needed.
Pittsburgh laboratory capabilities:
Detailed hydrocarbon analysis (C1 to C14+), ASTM D6729
LPG analysis, ASTM D2163, GPA 2186
Gas composition, including extended, ASTM D1945, GPA 2261, GPA 2286
High temperature simulated distillation, ASTM D7169. Distillation, D86
Sulfur content, ASTM D5453, D4294, D6667
H2S content in liquids, UOP 163. H2S content in vapor, ASTM D5705
Vapor pressure
API gravity and ASTM density
Sediment & water, water content
Total acid number, ASTM D664
Pittsburgh field sampling and inspection services:
Storage tank surveys
Crude oil railcar surveys
Load and off-load inspection
Sampling and inspection of barges, railcars, trucks
Metering and calibration
Pittsburgh region services:
Need help or have a question? +1 888 400 0084
Need help or have a question?
APAC:

+65 6805 4800

Australia:

+61 1300 046 837

Netherlands

+31 88 126 8702

Belgium

+32 3 543 9089

Brazil:

+55 11 2322 8033

China:

400 820 5033
+86 21 6485 5558

EMEA - UK:

+44 1708 680 200

FR:

+33 2 35 13 41 00

Germany:

0800 5855888
+49 711 27311 152

India:

+ 91 22 4245 0100

Italy:

+39 02 95383833

Mexico:

01 800 5468 3783
+52 55 5091 2150

Spain:

+34 902 377 388

Switzerland

+41 43 4337810

UAE

+971 4 317 8777

New Zealand:

+64 9 432 7521
Caleb Brett Global Crude Oil Services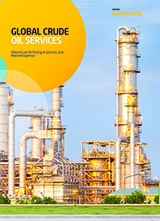 Download our Brochure
Learn more: Crude oil testing, inspection, and measuring services