Is that Product Safe for My Child to Use?
Gaining insight into the risks and rewards associated with the safety of juvenile products.
18 June 2015
Children spend a large portion of their initial years interacting with and using various juvenile products such as cribs, strollers, and high chairs. Caregivers believe and hope that the products they've chosen are safe for the most precious members of their families.
Over the last decade, there have been numerous recalls of juvenile products in the U.S. – from strangulation hazards posed by baby monitors to fall hazards from baby carriers, from entrapment hazards caused by crib mattresses to strangulation hazards in play yards and hardware failures in safety gates. So, how do you know if the products your infant or toddler uses are safe?
The numerous nursery product accidents, higher propensity of younger children to get in harm's way and the unique nature and purpose of these products has given rise to in-depth safety standards created by the industry. Similarly, recognizing the need for higher safety and regulatory standards for durable nursery products, the U.S. Consumer Product Safety Commission, per the section 104 of the Consumer Product Safety Improvement Act, have promulgated a minimum of two product safety standards for durable infant or toddler products every six months. These are made in consultation with juvenile product manufacturers, members of consumer safety groups, engineers and other experts.
Examples product categories with mandatory safety standards for durable infant or toddler products include:
16 CFR 1219 for Full-size Cribs
16 CFR 1216 for Walkers
16 CFR 1225 for Hand Held Infant Carriers
16 CFR 1227 for Carriages and Strollers
Unsure if the juvenile products you are selling meet the necessary safety standards? Intertek can help you with that. Contact us today.
Laxmi Ravikumar specializes in regulatory requirements for consumer products, with a focus on restricted substances, toys and durable nursery products. She is a member of the ASTM F15 Committee for Consumer Products, participating in the development and revision of safety standard for durable nursery products. In addition, Laxmi has a background working in the petrochemical industry and with a global retailer ensuring product compliance in the supply chain. Laxmi earned a Master of Business Administration from Bowling Green State University and a Bachelor of Science in Chemical Engineering from Anna University in India.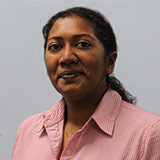 Laxmi Ravikumar,
Technical Manager, Intertek