Ontrack Communications Dashboard
Data Driven Insights Personalized for each Location.
Rapidly provide team members with real time data driven insights on key operational metrics to communicate change and correct behaviors before they become issues. The Communications Dashboard is configured with site-specific content including marketing announcements, operational updates, micro-learnings and social communication.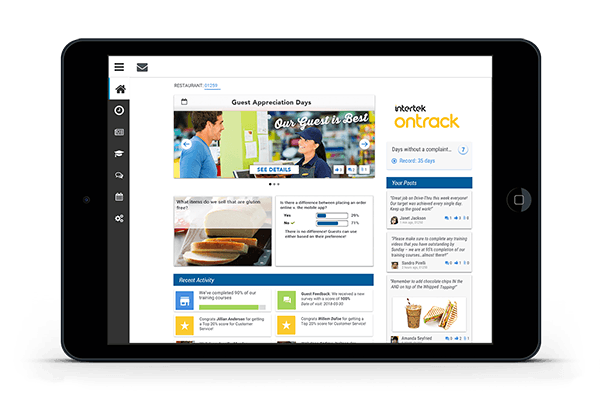 Key features of the home page:
Operational Metrics
Expose and benchmark your operational data feeds (including speed of service, training, guest feedback) to the entire team.
Training Updates
Recognize users' training accomplishments to celebrate and reward.
Question of the Day
Create greater awareness on trending topics.
Fact Check
Close knowledge gaps through daily quizzes on trending topics.
Posts/Messaging
Communicate site-specific information to create greater awareness of operational topics.
Operational Events
Focus the team on current marketing initiatives to keep the brand's information relevant.
Digital Signage
Fully enabled with digital signage capabilities to accelerate the line of site to every member of the team to ensure operational updates are top of mind.
Need help or have a question? +1 406 545 4662