Uniquely connect your people and
data to engage, empower and
improve performance in real time.
VIEW THE VIDEO
Each day, more than 450,000 employees in
over 20,000 locations use Ontrack in 17
languages across 85 countries to effectively
manage their operations and deliver on their
brand promise.
Ontrack is a unique enterprise SaaS solution that combines learning, communications, and operational tools with external sources (i.e. Guest Feedback, Speed of Service, Sales, IOT devices, Third-Party Audits, etc.) to drive operational excellence and mitigate brand risk with greater certainty than ever before.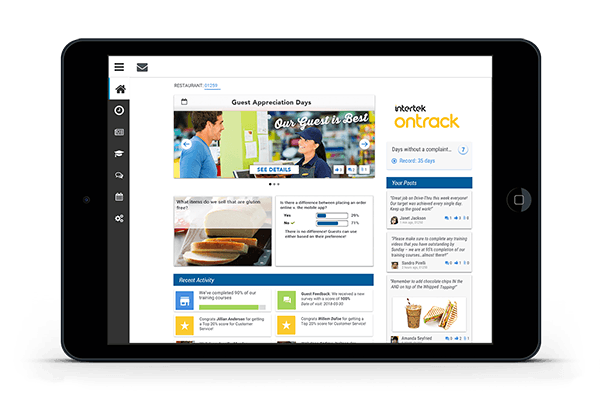 Communications Dashboard
Close performance gaps faster by providing team members with data driven insights in real time of each individual site's key operational metrics.
Baseline Learning
Create a targeted learning experience using site specific attributes (i.e. equipment, menu items, regional differences) to support and align to the changing needs of your business.
On Demand Learning
Provide a social learning experience to manage knowledge gaps with micro learning moments in a centralized location.
Task Management
Guide each shift through prescribed hourly tasks unique to each location to ensure your procedures and standards are managed effectively in real time.
Real Time Excellence
Need help or have a question?
+1 406 545 4662